OUR MISSION
Our mission is to stop the cruelty, abuse and neglect of dogs. Through foster homes, education
and unconditional love of our animals, our goal is to help in placing every dog, regardless of age, health status,
or behavioral condition, into loving and forever homes.
MEET THE TEAM
Communities often face challenges when providing excellent
animal care and control services. Success relies heavily
on a well-trained, professional staff who are compassionate,
committed, and dedicated to our mission.
ALY WEBSTER
Founder & Executive Director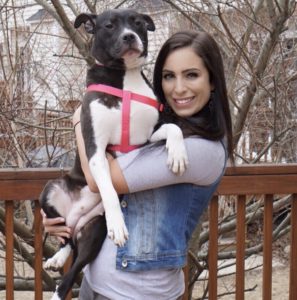 Aly is the Founder of DFB. She has her Bachelor's degree in Business Marketing,
and a double minor in Political Science and Communications. She has always been an animal lover
and grew up around animals all of her life. She wanted to change public opinion on Pit Bulls after
learning about the horrible abuse in popular underground dog fighting communities around her.
Aly adopted her first pit, Anella, who was rescued in Philadelphia from a known dog fighter. From then on, Alyson has made it her
passion to save Pit Bulls from bad situations.
STACY SMITH-SCHIMMING
Texas Coordinator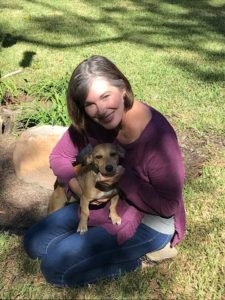 Stacy is an avid animal lover and dedicated rescuer. She has three kids and three dogs of her own, all are
rescues from Houston . Stacy joined the DFB Team  in 2018. Stacy holds down the fort in Texas and does
everything from trapping dogs to transport and vet visits. 
LAUREN SALAZAR
Adoption Coordinator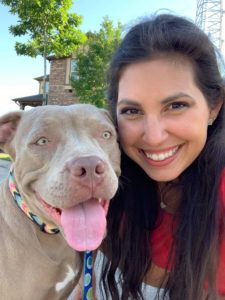 Lauren has been an animal lover her whole life. She has had dogs and horses
growing up. She gradated from Texas A&M with an Animal Science Degree. She has two
sweet boys, a loving husband and two sweet rescue dogs ( one DFB dog ). She
has a special place in her heart for pitbulls and momma dogs.  Her passion is to help save as
many dogs from the streets and get them into loving forever homes.
SYNDI WALLIN
Medical Coordinator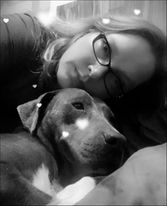 Syndi Wallin is our amazing medical coordinator.
She helps keep us all in line and the doggies all properly vetted and organized.
She's been in rescue for 9 years and the last two years have been her favorite since she's been with dawgs fight back.
She can't imagine what she'd do with all her free time if she wasn't keeping Alyson and Lauren in line all day.
Syndi has a huge heart and always wants to save the underdog.
She has no breed preference, she wants to save them all!
Syndi is momma to two boys and has an awesome hubby who supports her dog rescue mission.
They regularly keep all our hard medical fosters in addition to their four fur babies. We're so thankful for what she does for us and for dawgs fight back!